Alive in Roswell takes place simultaneously at two unique locations: Canton Street and the Roswell Antique and Interiors Lot.
Parking near the festival area is very limited. We have highlighted a handful of the best places to park for Alive in Roswell.
Free Trolley Sponsored by Wellstar


The City of Roswell offers a free trolly service to all venue locations. Free parking is available at both locations, and the trolley will run continually throughout the event. Find out more here.
There are a number of parking lots spread out around each of the locations.
Roswell City Hall & Cultural Arts Center Parking Lots
Perfect locations to park with a trolley stop to take you to the different drop-off locations surrounding the event. Closest walking proximity to Canton Street, and the Antique Lot venue.
Green Street Parking Lot
Located near Fire Station 1.
Woodstock Soccer Complex Parking Lots
Located near the north end of Canton Street.
East Alley Parking Lot
Located between Highway 9 and East Alley
Private Parking
There are a handful of private party paid parking lots located near Canton Street.
Street Parking
Street parking is available first come first serve along Mimosa Boulevard and Hill Street.
Map Legend
The City of Roswell offers a free trolley service, sponsored by Wellstar, to all venue locations.
The trolley service will begin at Roswell City Hall at 5:00 PM and run through 9:00 PM. Free parking is available near the event locations.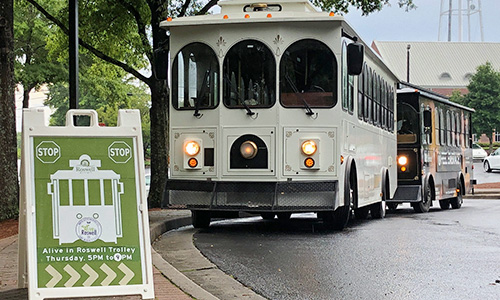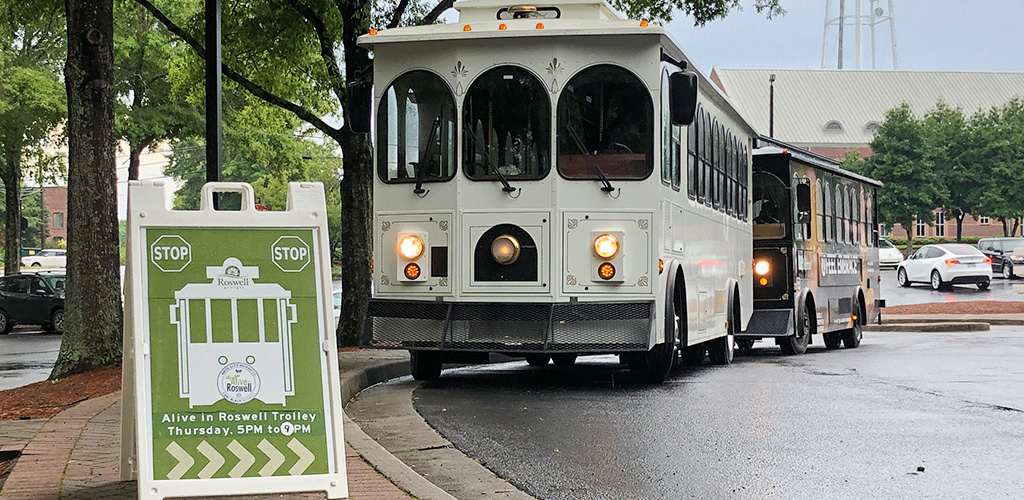 Passenger Drop-Off & Pick-Up
.
Please arrange for your ride-hailing service (ex. Uber and Lyft) to meet you at the designated drop-off/pick-up site on Mimosa Boulevard/Webb Street. The closest address to reference is 37 Magnolia Street, Roswell, GA 30075.
Please do not have your ride-hailing service drop off or pick up on Canton Street or Alpharetta Highway, as this creates significant back-ups and traffic flow issues during the event.
Map Legend